Home Page>>Work support / Work requests to artists
Work support / Work requests to artists
At Full %, our goal is to provide opportunities for artists to strive. As one of our services, we provide work support as below.
Work Support
Upon client's request, Full % will find an artist that accommodate their needs, and request work on behalf.
This service is to help clients find suitable artists to provide the service that they need; for those who don't have particular artists in mind.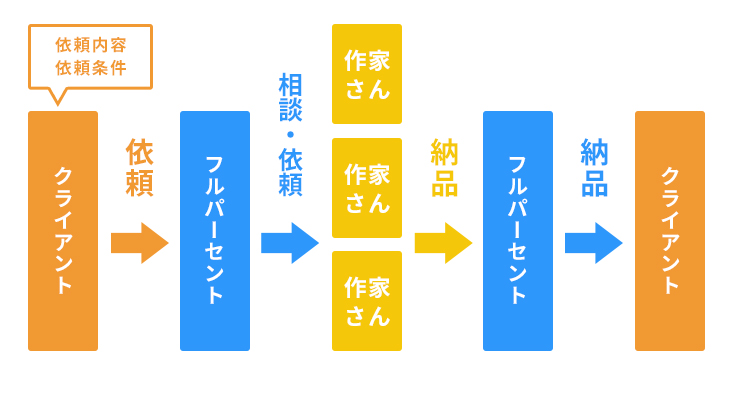 Work Requests To Artists
This service allows individual or cooperation to appoint and request work to artists that they prefer.
This allows to appoint and request a particular artist for short-term or long-term services.
Artists can set availability that work with their lifestyle at "My Menu". Once we receive a request at Full %, we will review and offer service that is suitable for both parties.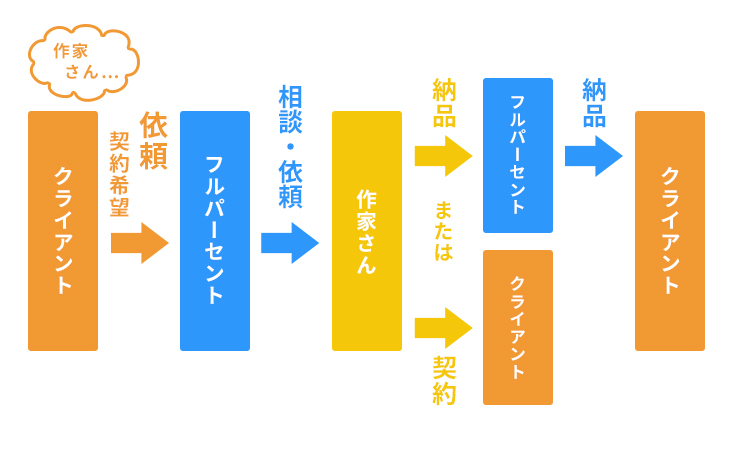 Full % is responsible to connect clients and artists to best accommodate their needs. so both can rest assured and concentrate on your work.
Full % will withhold tax from payment, not your client.
Once registration and setup is completed, wait for offers to come in.
Full % provides opportunity to exchange information and services. We are not responsible for contract agreement made between parties.
About Payment To Artists.
How to make payment: We understand that payment can be concerning at times.
At Full %, we arrange payments to artists. We calculate and pay tax withholding amount from the actual service fee agreed between both client and artist.
We do not deduct any service fee from your payment. Instead, we add the cost of our service on top of your service when offering to clients.
About withouding tax
In accordance to income Tax Law, Article 225, Item 1, No. 3, we will require the following in order to issue payment record for remuneration / fees.
Individual - 12 digits of My Number
Cooperation - 13 digits Cooperate Number
(Reference: Website of National Tax Agency: https://www.nta.go.jp/taxes/tetsuzuki/mynumberinfo/zeimusho_shinseisho.htm)
*Your Name
*Address
*My Number
My number is applicable for artists with annual income over 50,000 yen.
Please kindly note that we will ask for your My Number in order to process transaction.
Please be assured that we will not misappropriate confidential information to a third party without any approval.