About Full Percent
Full% = Full power
This website was born to support the full power of amateur manga writers.
Are you aiming to become a manga artist or illustrator and draw in your spare time? Why not become an artist for Full%?
Full power 1
Provide amateur manga writers growth opportunities.
For those people who know their own weaknesses but want to draw better manga. If you apply for your manga to be reviewed, we will have it reviewed by a professional evaluators.
For those who wish to become better at drawing manga, professional evaluators can review your artwork and help you identify your weaknesses.
All evaluators use the same comprehensive evaluation format, which allows artists to easily compare results and know the progress from previous feedback.
Also, you can request for evaluation one episode at a time. You can get as many evaluations as you need by multiple evaluators.
Please see the link in banner below for evaluation service.

Full power 2
Providing a chance to expose your artworks
Would you like your manga to be read by more people, but don't know how to start? When you publish your work on this site, we will introduce all new arrivals and updated manga via the official Full% SNS site. Your important work will be seen by more and more people.
Additionally, Full%, utilizing a booklet distribution service to companies and publishers, will introduce your work to editors and companies in your place. This will lead to increased opportunities for you to receive work requests and help you debut as a creator.

Full Power 3
Introductions to Publishers and Companies
When you register with Full%, you can select whether you would like to receive work requests from individuals and companies. Based on this, individuals and companies who view your work, can send requests to the creator with just a click of a button. Not only that, if you register with our work support service, and there is a work request to Full% from a company, we will introduce an artist suitable for that work request.
With the cooperation of Original Goods Lab, we can produce and market original goods just for you. You can have your own shop and without needing to hold stock, you can set your own sale price and receive that amount after deducting the cost price. This enables you to sell original goods without burden.

There is also a Full% comic publication service. Would you like Full% to publish your important work for you? Leave the management and advertising to Full%!!
For details, see the various services within the site.
Let's take a step toward your dream to become a amateur manga writer!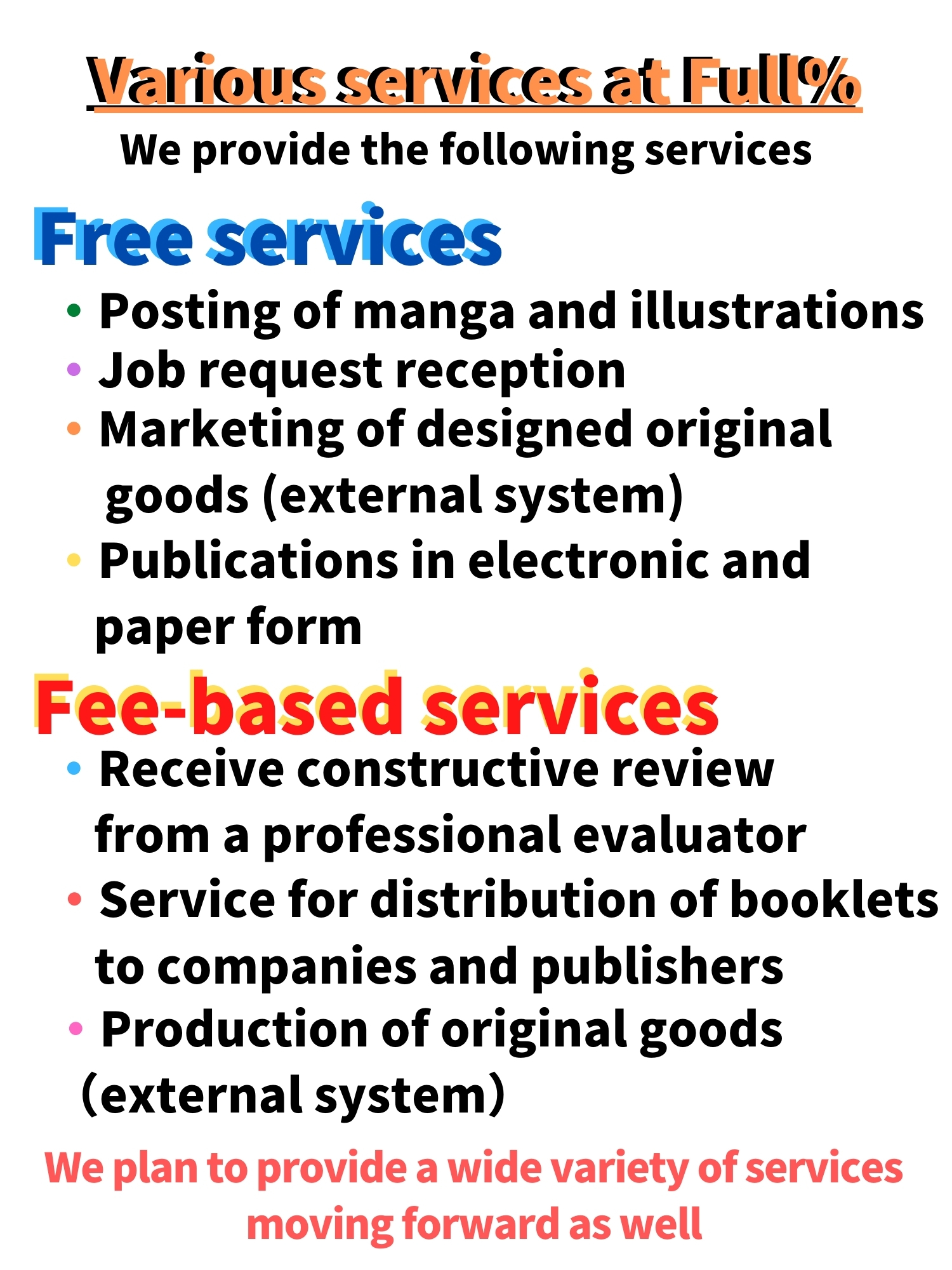 Let's support amateur manga writers in full power!
Support amateur manga writers by "likes", adding to favorites, and sending comments.
It is valuable experience for artists to receive feedbacks from their viewers.
Please join to support artists with us.